PLASTER & DRYWALL

Repair Services
Whether your walls are made of plaster or drywall, it's important that any pre-painting repair be done properly and thoroughly. An unskilled plaster or drywall repair can result in noticeable imperfections which no finish paint can hide (we've all seen in our own homes or friend's that DIY patch job). And no, you are not the only family to have that kitchen ceiling water damage for that long.
Call Now at (610) 419-4601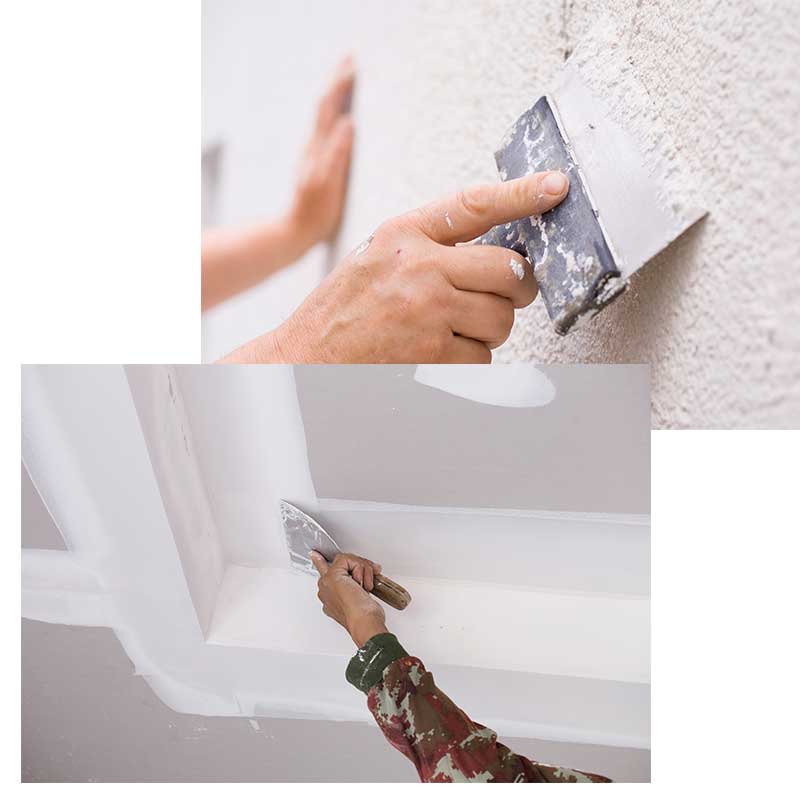 Fast & Efficient Plaster & Drywall Repair
Plaster Repairs: Some people are afraid of dealing with damaged plaster so much that many people cover it with wallpaper or paneling. But, there is nothing to be afraid of. Plaster is an attractive surface that gives character to any space. For experienced professionals, using the proper techniques and mixes of plaster, plaster of paris, spackle, etc., this type of surface can be brought back to its original shape within a few hours.
Drywall Repairs: That broken tape seam along your slanted ceiling, the nail pops high up on your foyer walls, the ceiling water stains, patches left unfinished from electric work, or the dreaded wallpaper removal – these type of repairs are just another day at Stirling Painting. We have years and years of experience in the taping, spackling, skim coating, and sanding required to bring your walls and ceiling back to new.
Contact Stirling Painting & Renovations in Pennsylvania
Contact us today at (610) 419-4601
Stirling Painting and Renovations
7283 Park Dr, Bath, PA 18014
(610) 419-4601