KITCHEN

Renovation Services
Sometimes all it takes is a new color to transform your kitchen into a warm, inviting room for your family to gather. Sometimes you want a soup-to-nuts overhaul. No matter where you are on this spectrum we know that the kitchen is very important to your family's life so we make every effort to get in and out as quickly as possible. And let's be honest – it's where all the guests gather whether you want them to or not.
Call Now at (610) 419-4601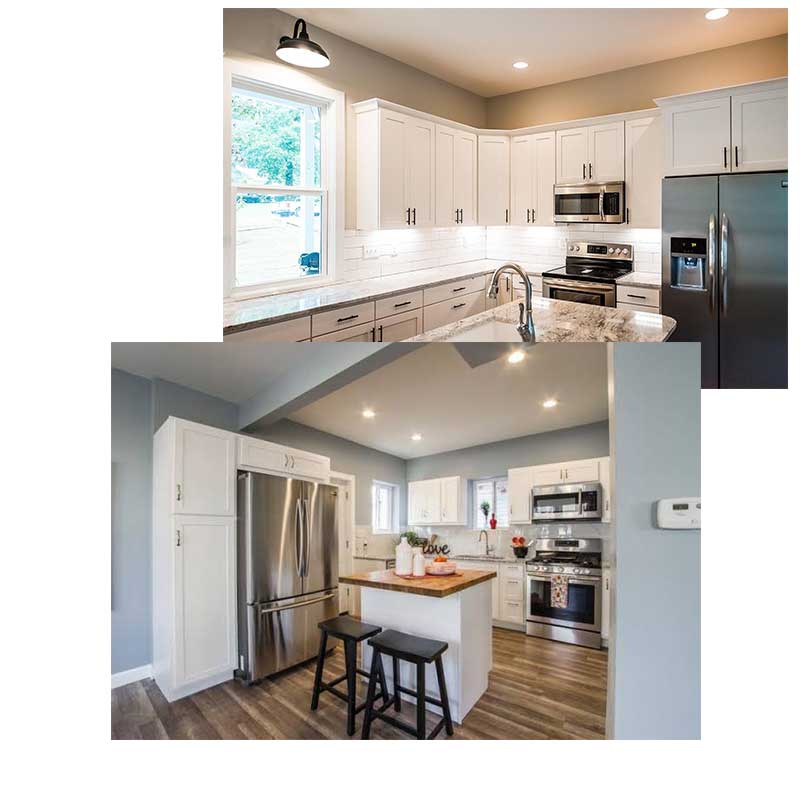 Fast & Efficient Kitchen Renovation
The kitchen is one of the most disruptive rooms in your home to paint and renovate (we can practically see you thinking about your takeout options already). At Stirling Painting & Renovations, we understand this, and we do everything we can to make sure that you're able to get back to a home-cooked dinner as quickly as possible.
Fun Fact: In many cases, we can do the kitchen surface preparation and wall painting in one day because, even in large kitchens, much of the surface area of the walls is covered by cabinetry and appliances. Most of the time, when you're ready to come home for dinner, we'll be cleaned up out of there (and because of the new low- or no-VOC paints there won't be any lingering smells to compete with your sautéed garlic).
Why Choose Stirling Painting & Renovations in Pennsylvania?
We're often asked whether we paint behind the refrigerator (we do) and whether we're sure we won't get paint on the cabinets (we won't). We've painted hundreds of kitchens, and we understand your concerns and how best to address them. We've got the experience, the craftsmanship, the equipment, and the respect for your home that it takes to deliver clean lines, a fresh, professional look, and complete protection of your new countertops, cabinetry, and appliances.
Stirling Painting & Renovations can also help with all elements of your kitchen remodel and renovation, like new countertops, tile backsplashes, cabinet installation or painting, new appliances or even a complete demo and redesign (yes, we agree that wall needs to go to open up the space). To learn more about what we can offer for kitchen remodels and renovations, click here .